geektechnique boutique
Welcome to geektechnique boutique, the webshop with only one (1) product…
a blue led mouse!
Anyway, this is the mouse (and isn't it the 1337357 mouse you have ever seen?)
Of course, next to selling it, I also tell you how you can do it yourself, ain't that something? (We're hardware hackers after all…)
...Here's the howto
...but, if you want me to do it for you, that's possible. I'll charge 25 euro for the mouse including modding, all shipping charges are additional…
...if you want it, drop me an email at mark[at]geektechnique[dot]org and we'll work something out.
user review
by Rutger
geektechnique's blue-lit mouse was a surprise wrapped up in a gift, so to speak. When I first got it I was like: what would I need this for, I got enough obsolete mice lying around. Until I "lit it up" and all of a sudden it dawned on me: of course, individuality shines from within!! The bluelight is ultra cool and even though I was advised that these blue leds would make the mouse less accurate, I haven't noticed it at all. It genuinely stands out from all those brothel-red-mice. It actually looks exclusive despite it's stock body.
Greatly recommended.
Functionality: ****
Nerdissimo: ****
Individuality: *****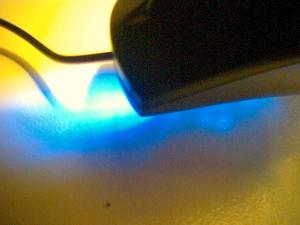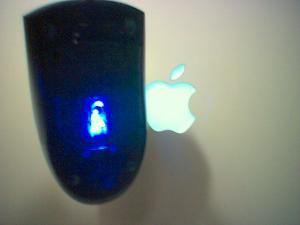 wallpaper
Or, if you really really really don't want to buy anything at my boutique (and how am I gonna afford my energy-bill huh? ever thought of that? ;-) )...
at least grab this wallpaper :-)