how-to turn a digital camera into an IR-camera
First of all, I know this has been done before (with webcams for example), but I thought it would be nice to give you an extensive insight view of how I transferred my old digital camera (which would probably fetch only $30 on ebay or such) into a infrared camera. The whole idea is just that a lot of people probably have old cameras laying around, collecting dust, so why not make one of your old cameras an infrared one?
Actually, this is a project I finished just before The Make Faire. I showed it at the Faire and now you can see it here too!
So here we go: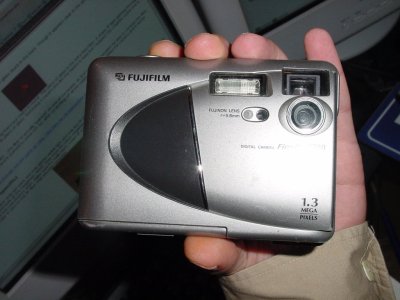 click to enlarge
The camera… In my case a Fuji FinePix 1300. It's a camera I always enjoyed using, a perfect point&click camera where you hardly could go wrong. But hey, it's 2005 and 1.3 megapixel isn't that impressive anymore :-)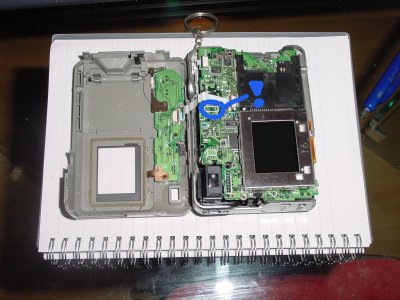 click to enlarge
First look inside, you can see the display and the smartmedia-reader.
ADDED: a safety tip, tape of those two terminals (I put a blue circle around them on the above pic). These terminals are connected to a huge capacitor on the other side of the PCB and believe me, you don't want that to discharge on you!

click to enlarge
Warning Here is where I went wrong in the beginning, but well, you can also learn from other peoples mistakes, so that's why I post these pics here. I went looking for an infrared-filter in the lens-assembly… which I took apart in the next picture… which in the end didn't seem necessary...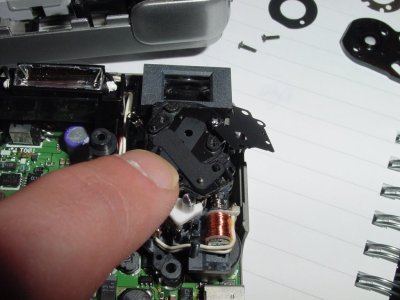 click to enlarge
Luckily I managed to get it back together, working and all… phew…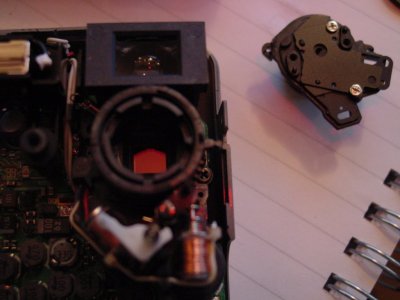 click to enlarge
The lens-assembly as a whole could come off and then you get a peek at the CCD and the reddish glow you see in this picture is actually from the infrared filter…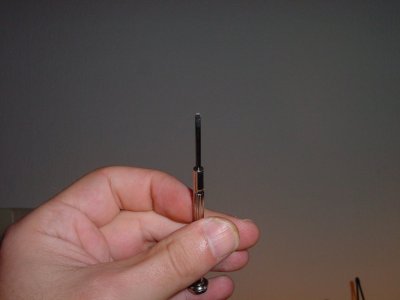 click to enlarge
I had to make a custom screwdriver to be able to get this tube, which normally holds the lens-assembly, off.

click to enlarge
Here you can see the CCD-chip with the infrared filter on top.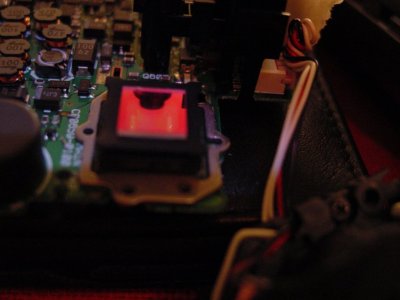 click to enlarge
...and another pic, where you can see the special glow this filter gives.

click to enlarge
...and a pic from the side, where you can see there's actually a small glassplate (the filter) on top of the CCD-chip.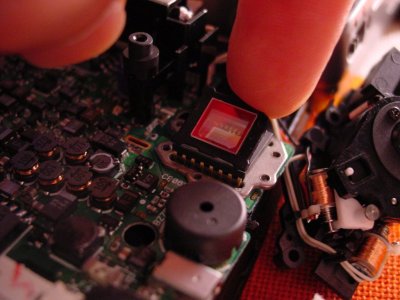 click to enlarge
...I looked quite long at this, trying to find a solution how to get the filter off, in the end I could just pry it off by using my fingernail…

click to enlarge
...the CCD-chip in all it's glory…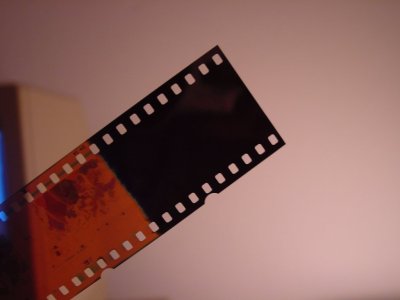 click to enlarge
...time to make another filter, we want one which will block all visible light but won't block infrared light. Luckily the trick of using filmnegatives for this was mentioned in the Infra Red Webcam How-to, so credit where credit is due.

click to enlarge
Here you can see the IR-filter, consisting of a little piece of glass and some rubber and one of my earliest attempts of making an evenly sized filter myself.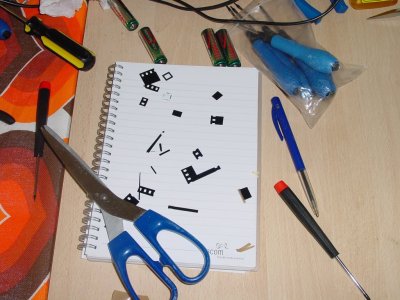 click to enlarge
...and this is what my table looked liked, once I had a working filter. The filter in the end consisted of two layers of film-negative and, to be honest, it took me about 15 attempts of making a filter and place it without fingerprints or other dirt, on to the CCD-chip (and yes, that meant 15 times of opening up and closing the camera before I could test yet another filter… ;-))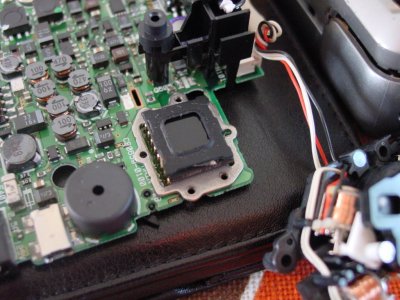 click to enlarge
But… in the end, we have a working filter in place! Time to close the camera for the last time…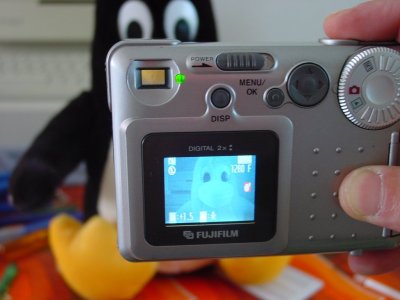 click to enlarge
First test-picture… Tux looks a little white in infrared…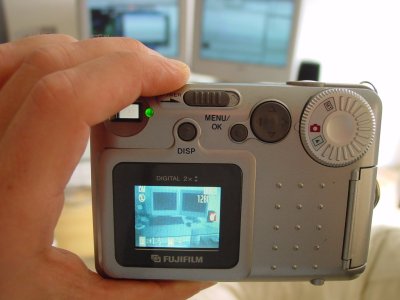 click to enlarge
...and my CRT-monitors don't display a picture at all, when viewed in infrared only…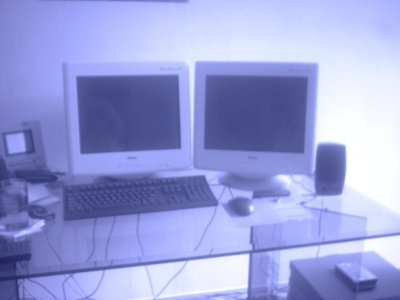 click to enlarge
...this is the actual pic made with the infrared camera.

click to enlarge
...trying to photograph a glass of cola.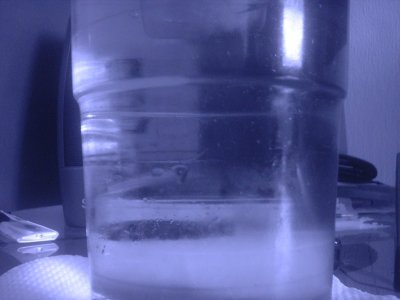 click to enlarge
...which looks like water in infrared!
...and then… an IR-flashlight!
Well… an infrared camera is fun, but you definitely need some kind of infrared lightsource to make it really fun and (a little bit) more usable :-) So, looking around for parts which would enable me to perform such a task… I ended up looking at one of my hand-crank-flashlights (which I also used as a power-source to my iPod) and that seemed quite an ideal basis for this, having 5 white leds as a light-source already, how hard can it be to exchange them for infrared leds? A little investigation told me an infrared led takes around 2 volts, while a white led takes around 3.5 volts… (actually, it's the guy at my local (and favourite!) electronics-store who tells me these kind of things, so I don't even have to google for these answers :-) ).
So, what I needed was 5 infrared leds and 5 resistors of 330 ohm.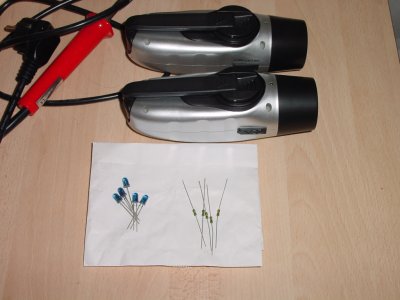 click to enlarge
...the setup…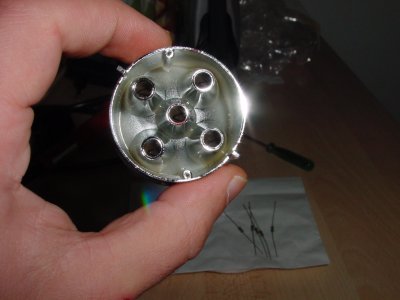 click to enlarge

click to enlarge
...the original PCB with 5 white leds.

click to enlarge
...and the backside with 15 ohm resistors, which were to be replaced.

click to enlarge
...one of the blue leds. I had to cut the legs of the leds down to almost nothing to use them in the original PCB.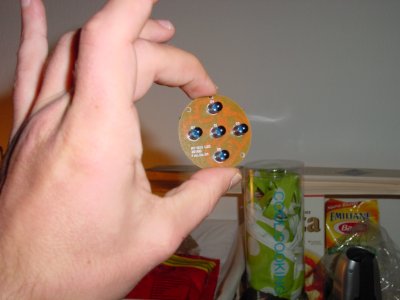 click to enlarge
...and the result with 5 blue leds in the PCB.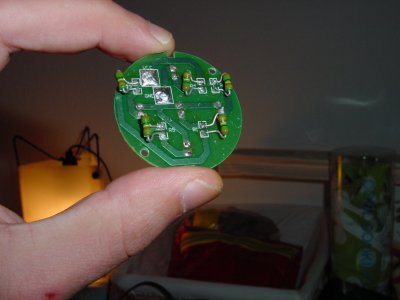 click to enlarge
...the backside with all the resistors replaced.

click to enlarge
...and assembled back together again, with the lens in place.

click to enlarge
Now, here you can see the flashlight doesn't actually light for the human eye… I'm aware of the fact that a handcrank flashlight which doesn't visibly light is one hell of an approach to nothingness… :D
...but, on the display of the camera you can see it actually produces a light (in infrared)... I actually have to check with my camera if the infrared-flashlight is on or off…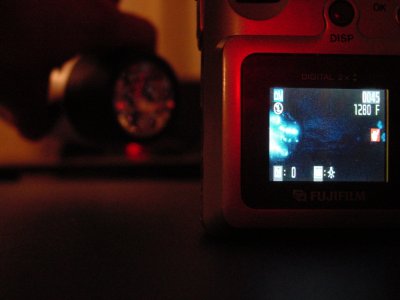 click to enlarge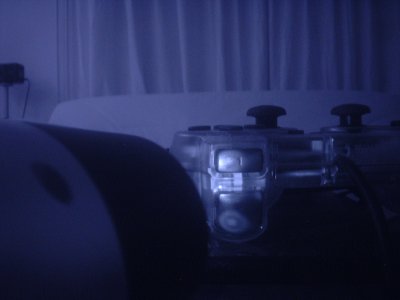 click to enlarge
...lighting one of my Sony Playstation2 dualshock2-controllers.

click to enlarge
...and here I am, lighted and photographed in pitch-dark with these two gadgets we just made/modded.
If you have any ideas/suggestions or comments, please put them below.
DIY trackback
MAKE:blog
hackaday.com
digg.com
As mentioned in the
Message from Mark's family
this site has been made static. This means that it will be no longer possible to comment on his ideas and projects, but that we all can continue to cherish his creativity.
you can find all of my projects
overhere