Pecha Kucha Nights remembers Mark Hoekstra
Tomoko Kagawa writes to us:
We just had our 55th PechaKucha Night last week. As Mark was very very special person for PechaKucha Night family here too, Mark Dytham and Astrid Klein took time to announce Mark's news…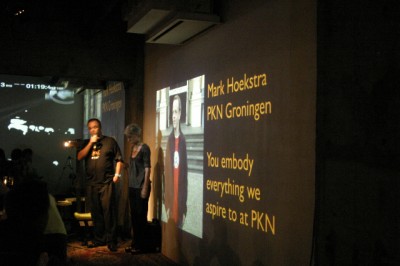 Mark Dytham and Astrid Klein remember Mark
Says Mark Dytham:
Our global PKN family is very close to us all here in Tokyo, and the news is really difficult for us digest. Mark embodied everything we aspire to at Pecha Kucha night (...) his spirit was so Pecha Kucha.
As mentioned in the
Message from Mark's family
this site has been made static. This means that it will be no longer possible to comment on his ideas and projects, but that we all can continue to cherish his creativity.
previous: Mark Hoekstra has passed away
next: Pecha Kucha Nights X in Groningen: wow!