modified Q-Q-QuakeIII-engine...
modifying QuakeIII-engines seems to be the hottest thing :-)
There already was DEVMAP and now there's QQQ
The artist, Nullpointer, has modded the Quake III engine so that it renders out crazy, haunting, beautiful high-speed graphics instead of levels. Sometimes he gets people to play public games of Q3 on an Internet-connected server and renders out their movements in the QQQ engine at his gallery installations. The videos are just wild.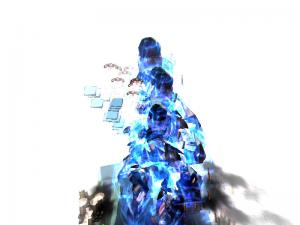 clicking the image brings you to Nullpointers page
Make sure you check out the pictures & videos
As mentioned in the
Message from Mark's family
this site has been made static. This means that it will be no longer possible to comment on his ideas and projects, but that we all can continue to cherish his creativity.