closet-hosting days are (almost) over!
Geeez… next to my own site, I'm involved in another site and since I had this super-webserver I already decided it would be a good idea to put these 2 sites on this machine and co-locate it professionally…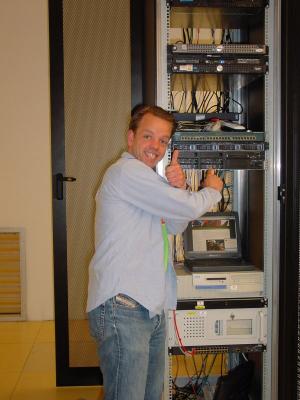 this is me after 2 days of trying to save whatever there is to save of the old environment and eventually being glad there's a new machine (my machine) taking care of the traffic
Only thing was, that I hadn't planned it for this weekend! :-)
But… the environment where that other site was running in (Debian in an UML-environment) decided for some strange reasons to behave very strangely and eventually give up…
So… then I/we had to act quick and I started to build whatever I could build on the new server (at this moment, that's only their weblogs) and colocate it (on a sunday!)
Well, good thing is of course, my dual-Xeon-webserver arrived at it's destination in a datacenter and now, whenever I have time, I can migrate this site to there… :-) So my closet-hosting days are over!
As mentioned in the
Message from Mark's family
this site has been made static. This means that it will be no longer possible to comment on his ideas and projects, but that we all can continue to cherish his creativity.
previous: I am Steve Jobs' Bitch-nailjob
next: ...a fanmod for my workstation...